Android Deployment
Tablets and Phones provide the perfect portable solution for HMIs, SCADA, Factory Automation and Manufacturing.
MIStudio HMI makes it easy to build a solution for your Android Phone or Tablet. With the next level up, MIStudio and MIStudio Pro, you can build sophisticated applications that store and display or trend historical data, alarms, and other information, or if you just need a view into your process, then the HMI product provides direct drivers for a number of PLCs. You can also access OPC Servers on Windows PCs throughout your facility (OPC version of MIStudio to be released soon, please contact us for more information).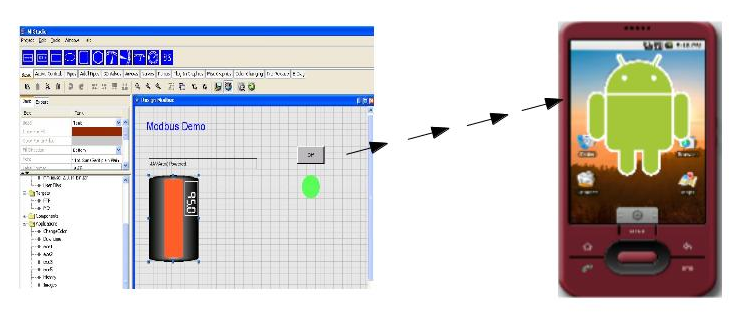 Tablets and android phones bring a whole range of new sensors to augment traditional factory automation. With the ability to capture Location (GPS coordinates), Images (Camera), Direction (Magnetometer), and Acceleration and to use local networks such as BlueTooth, your mobile applications are now limited by your imagination and not your tools. With any version of MIStudio, you can create the next "must have" app for your organization or for broader distribution.
Android is also your gateway to the Cloud

With a complete range of IOT protocols, REST, MQTT, XMPP, etc., both Ethernet and Mobile networking and support for almost all SQL databases Android can push data to the cloud or other servers. For full details, download Android HMI to Cloud
See the Comparison Chart to see other features you can get with different MIStudio versions.
Click on any link below to find out more about the product and to be able to add the product to your shopping cart.
MIStudo for Android HMI